USIIS Updates
The Immunization Program released a new exemption module on October 11th. Parents can access the new module linked. Please see linked instructions in English and Spanish for detailed steps on how to use the new system and complete an exemption.
Please take note of the following exemption updates:
Parents must now create a Utahid account in order to access the module.If they have created one already, they may use it for access.
The names of the schools are no longer on the exemption form.
Parents have three days to return to the exemption module to make changes or complete it.
Parents can now print the exemption form as soon as they complete the module.
USIIS Forecast Known Issues:
PCV/PPSV23: For adults 65 years of age or greater who have not received a previous dose of PCV, it is recommended that they receive 1 dose of PCV20 or PCV15 (if PCV15 is used should be followed up by a PPSV23 one year later). Currently, this 65+ dose recommendation is displayed in the PPSV23 series/row /instead of the PCV row with the appropriate age guidelines

(07/11/23). 

PCV and PPSV23 lines have disappeared from the forecast screen, forecast report, and USIR.

We are aware of this issue and a fix is on our next sprint cycle (Update: 11/15/23).

For children, if a PCV20 was given it is showing as "inadvertent administration"              (10/18/23).
Varicella/MMR:

 For adults older than 19 year of age who do not have a history of a varicella or MMR vaccination, the forecast will display "N/A" for these vaccinations.

 ACIP recommends 

that adults aged 19-49 years of age receive 2 doses of varicella (if born in 1980 or later) and individuals 19-64 years of age receive 1 or 2 doses of MMR (if born in 1957 or later). This bug has been reported to our forecast vendor for a fix (Update: 07/11/23).

STC responded that it wasn't in the CSDI this way and will work on it                     (10/18/23).


Men B: Currently, our forecast is only showing for Men B OMV (Bexsero) regardless if either Men B OMV or Men B Recom (Trumemba) was used. The forecast module will display the correct dates for the next dose for either vaccine. However, if Men B Recom was used, it will not show up correctly on the forecast report (07/11/23).
Men B line has disappeared from the forecast screen, forecast report, and USIR

Will be solved by combining Men B OMV and Men B Recom into one line                  (Update: 11/15/23).

COVID doses: New Novavax not added into the forecast by STC (Update: 11/15/23).
Dtap: If 4th dose was given after 4th bday, it's forecasting the patient needs another dose.

Fix deployed in Test (Update: 11/15/2023).

Tdap: If a patient is on a catchup 3 dose tdap series, they are showing inadvertent doses.

Still exploring the reason (Update: 11/15/23).

RSV Abrysvo:

For people <60 years old, if they have an RSV given in their record it will cause an error 6 (Update: 11/15/23).
For people >60 it is showing current even if they haven't received a dose (Update 11/15/23).
      Forecast Updates:
Varicella Immunity now showing in production.

Meningococcal display name was switched to Men ACWY (Update: 07/11/23).

The new RSV and COVID vaccines have been added to USIIS' forecast (Update: 10/13/23).
Changed CVX code 93 to say RSV-MAb (palivizumab) instead of just RSV-mAB

Please use codes 306 and 307 for nirsevimab (Update: 11/15/23).

Fixed a bug in USIR for Tdap showing N/A (Update: 11/15/23).
Added a fix to allow Rabies vaccines to be given at ACIP recommended interval of 0,3,7,14 days.

Previously if they got a vaccine <6 days apart it replaced them (Update: 11/15/23).
USIIS was updated on Saturday, May 6th. We are now using the Utah ID to login to USIIS. When you login for your first time you may need to link your Utah ID to your existing USIIS login.
If you haven't created a Utah ID please go to usiisapps.utah.gov and click "create an account". Please see USIIS Updates slides linked for further detailed instructions. 
Q: I am not able to log in, what do I do?
A: First, make sure that you are going to usiisapps.utah.gov. The
IF you get a USIIS portal login screen, it is likely a different email address is associated with your account.  You will be directed to a Utahid login page to enter your existing USIIS Username and Password. It will link your USIIS and Utahid accounts.
If you

do

 

have

a Utahid account, use your existing Utahid credentials to log into the USIIS Portal, linked. Do not create a new account. This is what the screen will look like. Again, please use your existing Utahid credentials.
IF you do not have a Utahid account, please go to usiisapps.utah.gov click on "create account" and follow the instructions.
IMPORTANT TO NOTE: Your USIIS account and Utahid account will link automatically if the same email address is associated with both accounts.
Q:  What do I do if I forgot my USIIS username or password?
A: Please contact us via a USIIS Support Request linked and we will reset your password.
Q: I am still unable to login...
A: Please contact via USIIS Support Request linked, with all details as to why you are unable to login along with any errors populating so that we can help resolve this as quickly as possible.
Q: I am unable to enter a lot number into USIIS Immunize, how can I save a vaccine?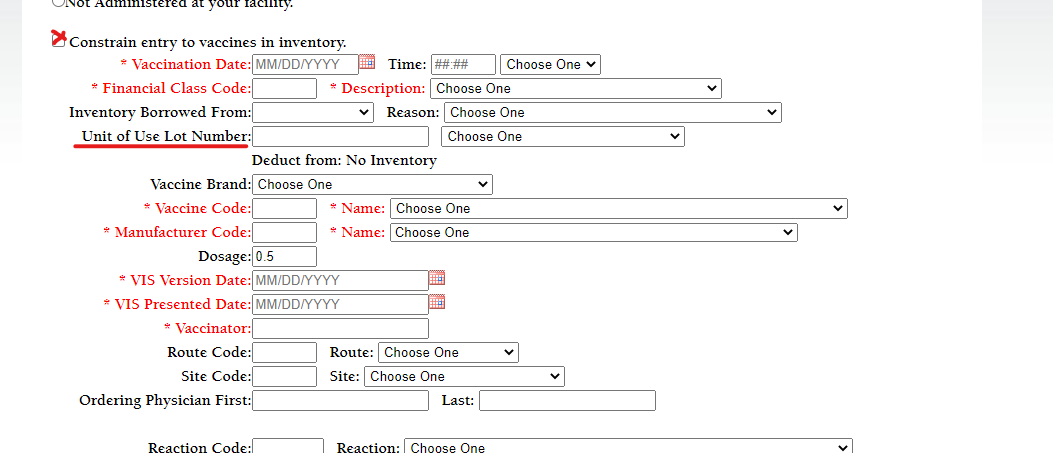 A: We just upgraded our system and there is a bug when you try to enter the lot manually using the text box instead of the drop down menu. We have let our dev team know about this issue and they are working on solving it. In the meantime, if you enter the lot number using the vaccine inventory module and do the drop down or use the brief entry, it will save the vaccine (Updated 05/10/2023)
IF you are having any issues specifically with Utahid login, not USIIS, please reach out to 801-538-3440 or  800-678-3440